Introduction To Price Action Forex Trading Analysis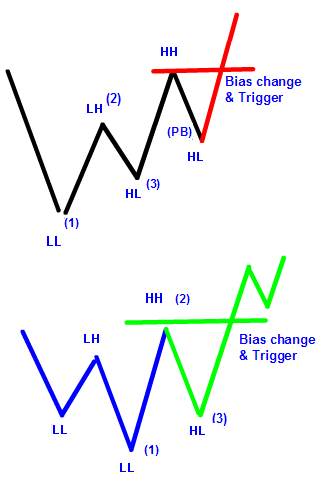 Today we'll learn about what exactly definition of price action forex trading analysis. Using price action forex trading analysis is almost called "how to read market movement only from clean charts forex". You can analyze forex market, option or gold spot or any thing using this forex clean charts strategy based on price action only. Just remind accurate price action analysis only on at least four hour time frame and executed it on one hour time frame. No need any indicator again, but you've to find which HH (Higher High), HL(Higher Low), LH (Lower High) and LL (Lower Low). At the end this parameter will be exactly level which you best to trade with. At the end will know what exactly price will go.
Advanced Price Action Analysis Forex Trading
If we talk about price action forex strategies, so we need based knowledge about support resistance, forex reversal candlestick patterns and forex candlesticks basics it self. Because price action forex analysis can done with only read repeatable testing zones time by time. Many forex traders using price action trading strategy based only candlesticks patterns. But, what best time frame to read candlestick patterns as support resistances based? i suggest read from at least four hour time frame, daily chart or even weekly chart. This 3 time frames are better and have strong based for intraday traders and for swing forex traders. Because in big time frame represent strength based patterns so support resistence more stronger beside on this big time frame, traders volume are more bigger as always than if we compare with smallest time frame that have many small range, weakly support resistance and fast changing variables.
Sometimes we get difficult to learning how price action works because so many price action versions that we can found in many forex resources, such as forex forums are forex factory, baby pips forex forum, price action books, price action tutorial, price action free pdf, price action forex trading from youtube but at the end just little bit of those forex price action methods give us a clearly price action forex trading strategy which have a awesome forex trading signals.
And moreover with price action trading signals we don't need many forex indicators again like fibonacci, ema,macd convergence divergence, adx, bollinger band and many others forex indicators that sometimes makes our analysis more difficult. Those forex indicators we can use later as our alternative forex tools but not primary.
So, first of all we only need clean chart metatrader to read best price action trading setups that we need to measure as our based zones to get best forex signals entry.
Here the different clean chart vs "messy" chart :
The image example below shows a clean price action chart, with no mess, and no indicators, just pure price action bars:

The image example below shows a complicated price action chart, with lots of clutter, indicators and complex :

Forex Price Action Reversal Patterns Based Forex Candlesticks Strategy
It's more clearly with clean chart right?. Now, basics price action trading setups is by reading reversal candlesticks patterns from 4H, Daily or Weekly chart that near with support resistances zones. Those reversal candlesticks patterns we'll used as our strength support resistances zone. Because if price go to this zones, price always react and making a new zone consolidation in small time frame. But remember support resistance is not our primary variable analysis, because in this support resistance zones have more false breakout so give false signals too, but if using reversal candlestick patterns nearly with this support resistance zone in daily chart as our based it's more accurate enough.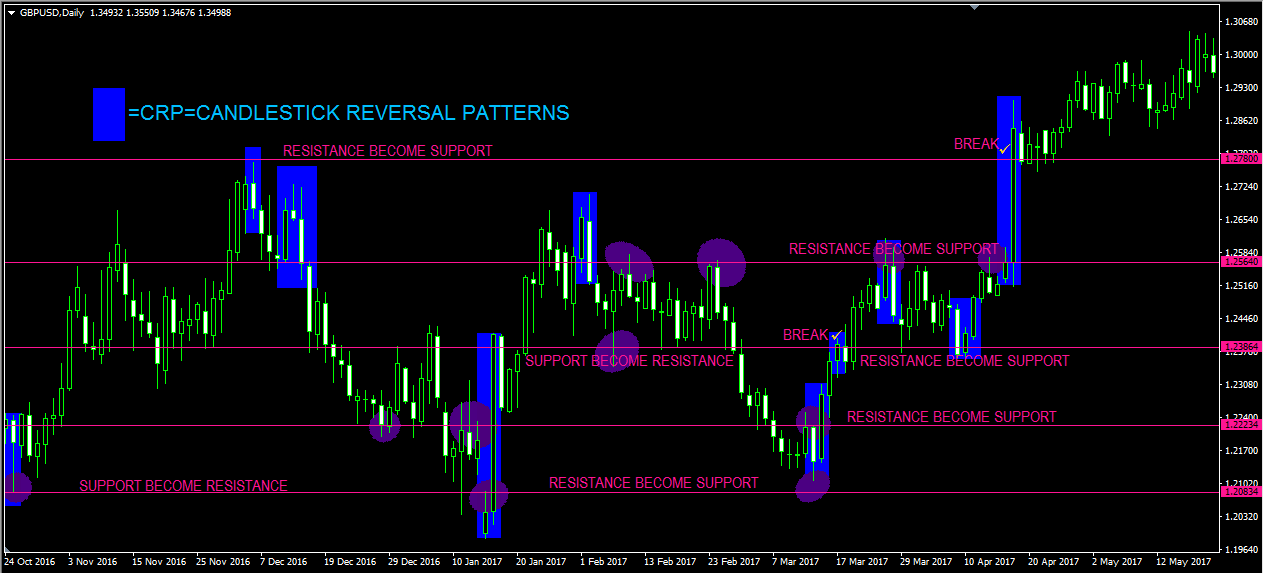 From picture above we can see how many times support resistance break but after then not directly break reversal candlesticks pattern is because price always respect old reversal candlesticks pattern. But at least with break support resistance line it signs that new cycle will be formed with the new bargain will be repeated again and this represent with new candlestick reversal pattern will be formed in new zone.
Now, how can we identify old bearish reversal patterns that we're using as resistance level is vulnerable to break?. It's simple. The answer is full body candle. Why full body candle ? is because full body candle or candle bank or anchor candle what ever it's called represent volume buyer and seller take action in big volume. So, if we represent full body candle bull is for buyer and full body candle bearish is for seller it make sense right?. See picture below to see when seller defeated by buyer then buyer taking control of the market or when buyer defeated by seller then seller taking control of the market. This is how market psychological said about current condition whose taking control.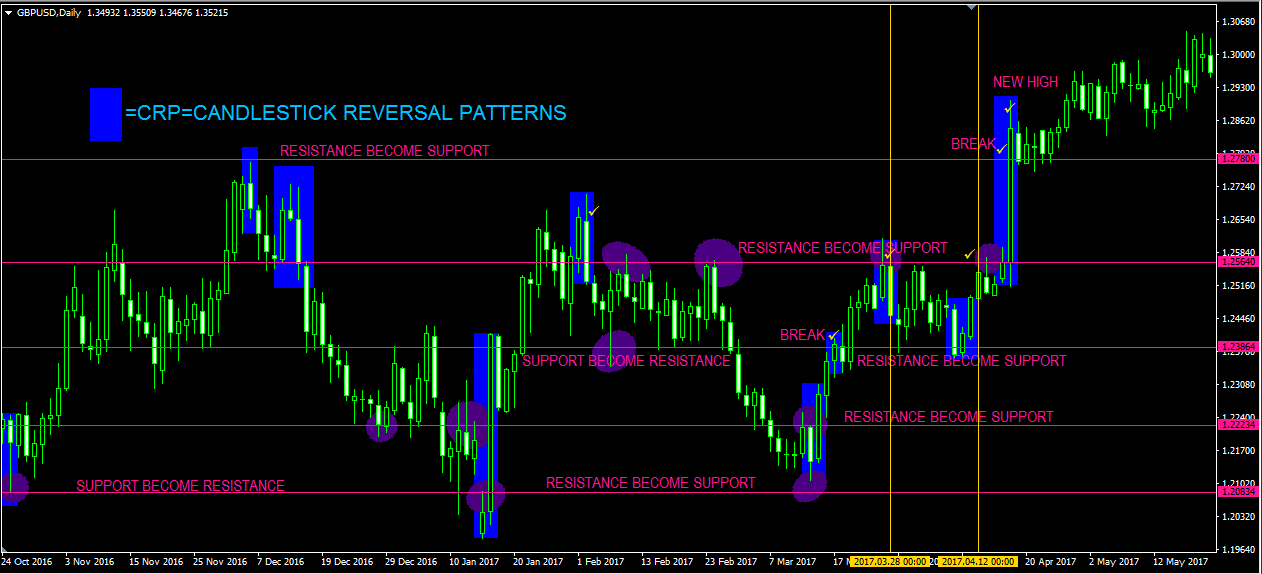 See full body seller in bearish engulfing on 28 03 2017 defeated by full candle buyer in continuation prices of morning stars bullish reversal candle from 07 04 2017 until 12 04 2017 so in this case buyer taking control so just looking for long entry in nearest bullish reversal candlestick patterns in smallest time frame M15 to 1 hour. We can see price go up with strong uptrend and make a new high record.
By reading strong support resistance zone based reversal candlestick patterns and combined it with reading in multi time frame, we can be as scalping forex traders, swing forex traders or even long term forex traders. Or you can learn on how swing forex works based price action and fibonacci retracement strategy.
This is how price action trading formula works. Then our goal is practice using this method combine in multi time frame analysis. So, at the end we need more practice to read how candlestick reversal patterns works with very accurate. No need to think about making price action forex robot or looking expensive price action forex course or price action indicators. With practice reading easy price action trading strategy using reversal candlestick patterns based full body candle, we can mastery price action forex trading setups as well and minimize our risk trading from margin call.
I hope today's introduction to Price Action Forex trading has been a helpful and enlightening lesson for you. No matter what strategy or system you end up trading with, having a solid understanding of price action will only make you a better trader. If you're like me, and you love simplicity and minimalism, you'll want to become a "pure" price action trader and remove all unnecessary variables from your charts. If you're interested in learning how I trade with simple price action strategies. Happy trading using this great price action strategy and don't forget to learn our recommended 5 major candlestick reversal patterns  too.