Scalping Using Bollinger Bands
Scalping is most favorite techniques almost for all forex trader in the world. Why ? The answer is easy. Scalping is very fast to get money in forex. Forex scalping has gained high popularity nowadays. You are welcome to explore the bollinger bands of forex scalping strategies and ideas! True scalping involves risk as well as any other type of trading. If done correctly Forex scalping provides an additional degree of risk management as a result of holding trading positions for a very short period of time as well as constant monitoring of the price and collecting quick profits as they appear. Forex scalping systems if used will assume trader's own risk and full responsibility. Scalping Forex is fun. Learn it and trade profitably! At this time i'll share
scalping using bollinger bands
.
Bollinger Bands
Bollinger Bands are a technical trading tool created by John Bollinger in the early 1980s. They arose from the need for adaptive trading bands and the observation that volatility was dynamic, not static as was widely believed at the time. The purpose of Bollinger Bands is to provide a relative definition of high and low. By definition prices are high at the upper band and low at the lower band. This definition can aid in rigorous pattern recognition and is useful in comparing price action to the action of indicators to arrive at systematic trading decisions.
Bollinger Bands consist of a set of three curves drawn in relation to securities prices. The middle band is a measure of the intermediate-term trend, usually a simple moving average, that serves as the base for the upper band and lower band. The interval between the upper and lower bands and the middle band is determined by volatility, typically the standard
deviation of the same data that were used for the average. The default parameters, 20 periods and two standard deviations, may be adjusted to suit your purposes.
Currency: EUR/USD
Time Frame: 5M, 1M, M15
We now use the following indicators:
Bollinger Bands period 50 deviation 2 (yellow)
Bollinger Bands period 50 deviation 3 (blue)
Bollinger Bands period 50 deviation 4 (red)
RSI 8 (horizontal lines on 30 & 70)
Full Stochastics 14,3,3 (horizontal lines on 20 & 80)
[adsenseyu5]
The entry rule stays the same, when price crosses at least half way to the upper blue bollinger band, we sell. Price will retrace to the middle red line (MA50). This is where we take profit! Taking profit a little bit earlier could be wise, because it is not 100% guaranteed that the retracement will move all the way to the MA50. But, ONLY sell when RSI is above 70 and the Full Stochastics (almost) hit the 80 line. Opposite story for a long entry!
Here the picture below to learn scalping using bollinger bands 😉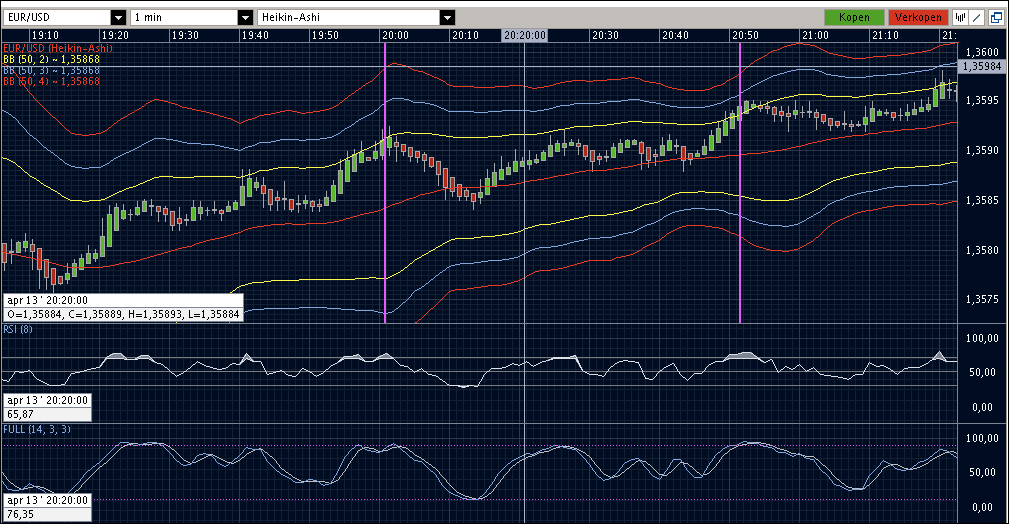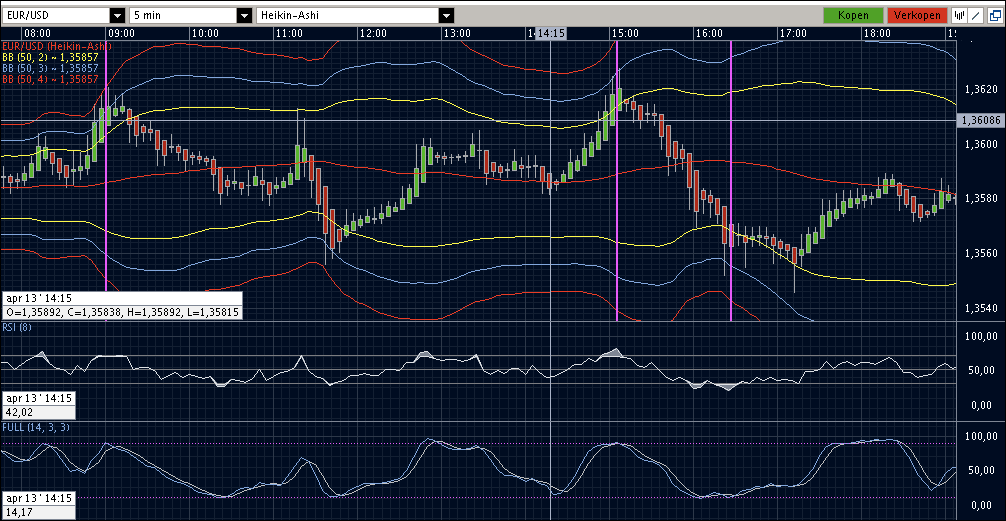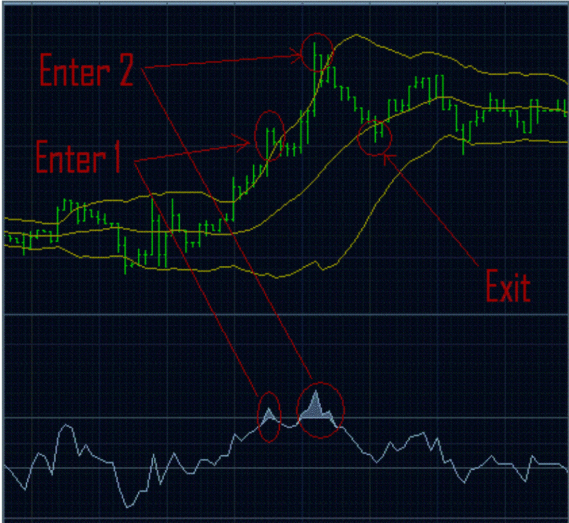 I don't use stop losses with this system, because (especially on 5M time frame) entries are nearly almost a success. When prices go the wrong way, I just double my bet! I take profit when price nearly reaches the MA50 during a retracement. Having patient is very important when using this scalping bollinger bands system!
Happy trades and happy scalping with bollinger bands.
[adsenseyu5]