Reversal Three White Soldiers & Black Crows Candlestick Pattern
Bullish – Three White Soldiers Candle Pattern
And
Bearish – Three Black Crows Candle Pattern
We have another couple of reversal candlestick patterns with an interesting names. While the bullish version of the same pattern named as a white soldiers, the opposite of version called not 3 black soldiers but 3 Black Crows. I guess they tried to avoid any possible tone of racism. Well, if I was naming them I'd have used for bullish version 3 Brave Soldiers and bearish version 3 Rebel Soldiers if were to stick on with soldiers theme. Perhaps more simpler approach would have been better by just naming them 3 Up Pattern and 3 Down Pattern.
They say the reason they called as white soldiers and black crows is that in those old days they were drawn as white and black candles. Additionally in early days of computing they didn't have color monitors, just black and white.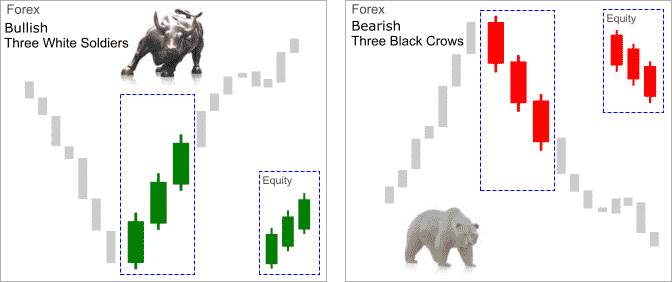 Have look above Three White Soldiers Candle Pattern and Three Black Crows Candle Pattern illustrations. What do you see?
It clearly shows that price reached in certain bargain levels that buyers [Three White Soldiers] or sellers [Three Black Crows] get ecstatic and jump in the market with a force.
Keeping in mind these are trend reversal patterns. We'd be looking for Three White Soldiers Candlestick Pattern on a down-trend and for Three Black Crows Candle Pattern on a up-trend. Once again within the context of major supply and demand zones.
Both patterns are made of 3 bull or bear candles. Each new candle is making new highs in respect of the previous candle.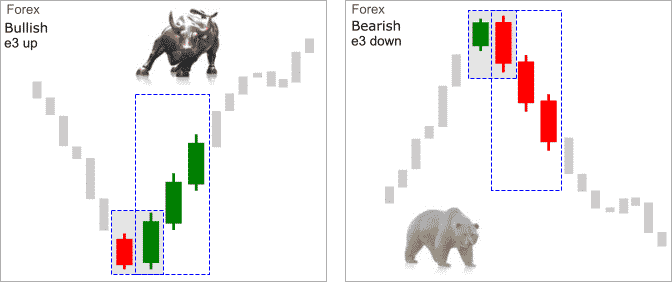 Lets consider this. What about if the pattern starting with another reversal candle pattern engulfing as illustrated above. We would have two combined reversal pattern occurrence one after another. It sounds exciting doesn't it. I'm going to give a new name to these combined patterns e3 up for bullish version and e3 down for bearish version.
Now that we have 2 reversal candlestick patterns one after another, what we are waiting for? This may be the obvious question? Not so fast!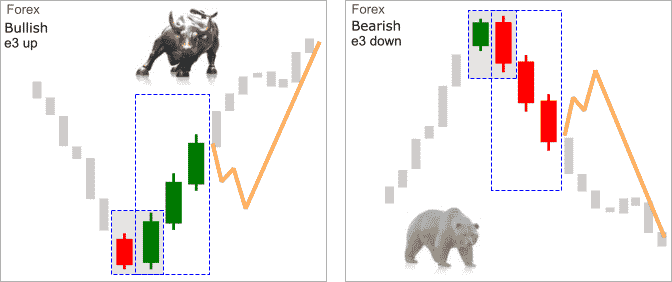 After 3 up or down candles there may be some profit taking and re-loading, especially 3 candles are large as illustrated above. Don't forget there are always those who may be thinking markets overbought or oversold after the third candle. If we didn't trade the engulfing pattern then it may be better to wait for profit taking retracement and enter with smaller risk. How much of a retracement we should be waiting for? Of course we don't know the answer in advance. However, you can use your Fib retracement tool and look for the lines.
Here are couple of example. They are not perfect but close enough.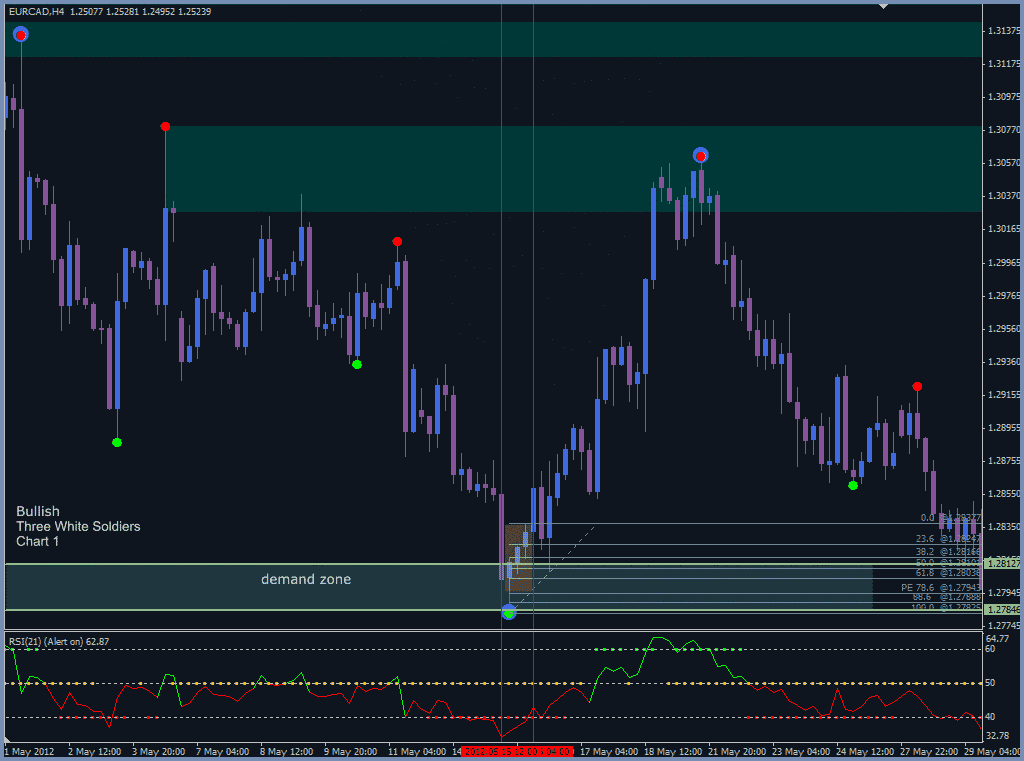 Three White Soldiers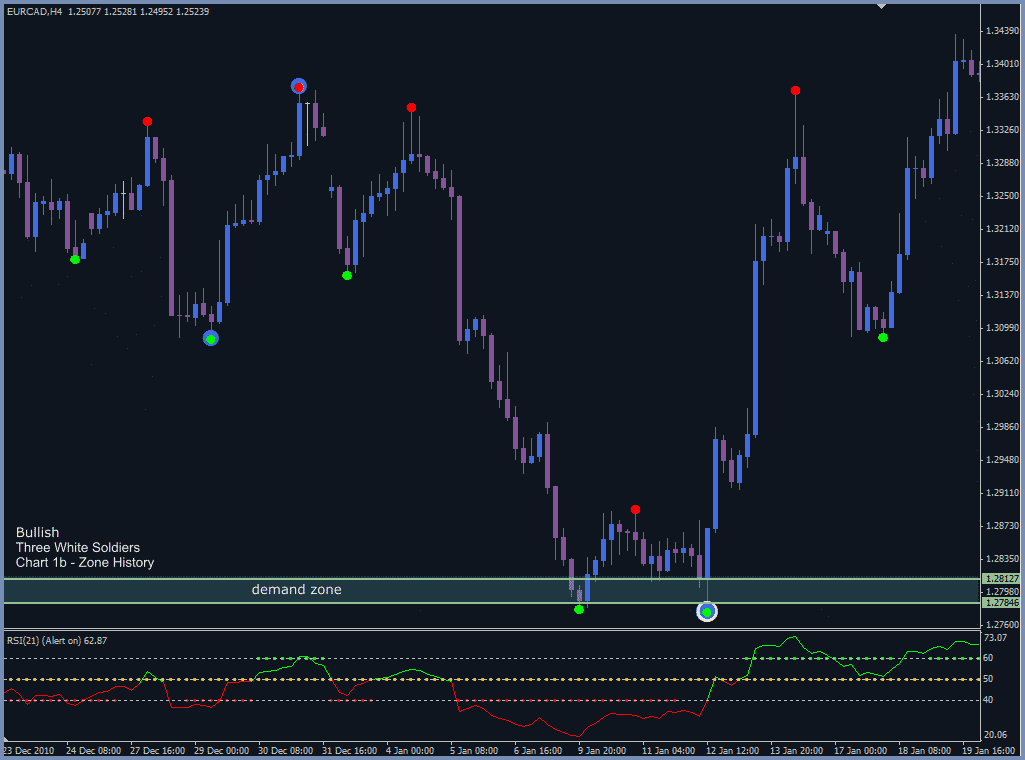 When we scroll back the chart we find our first reference demand zone.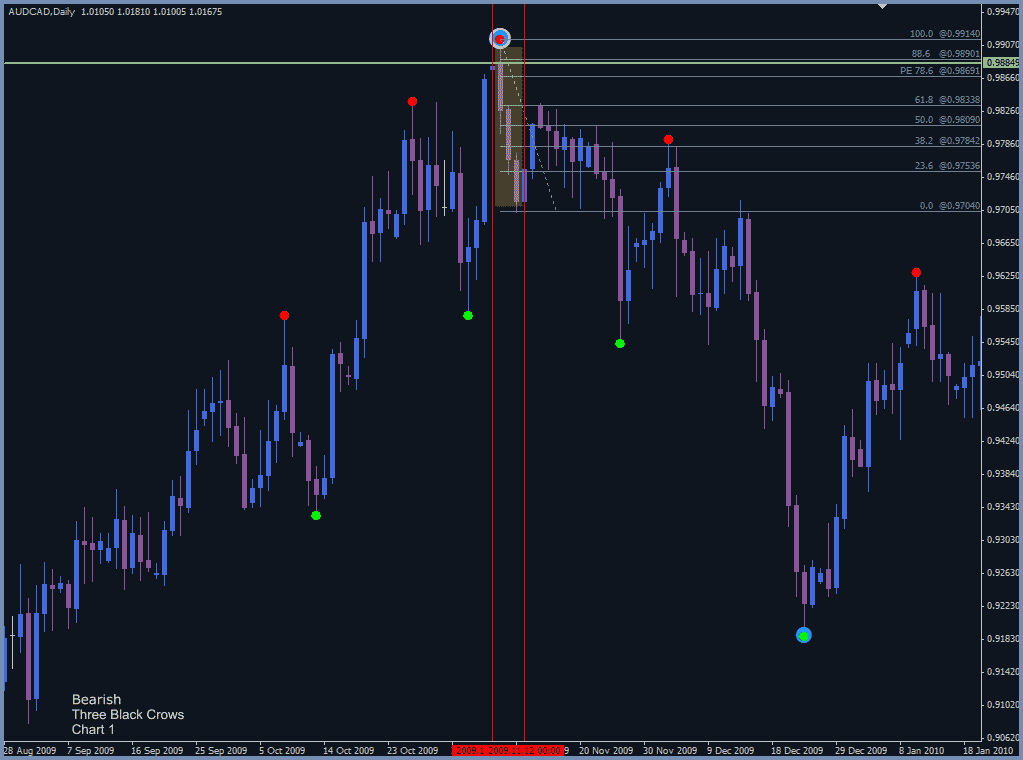 Three Black Crows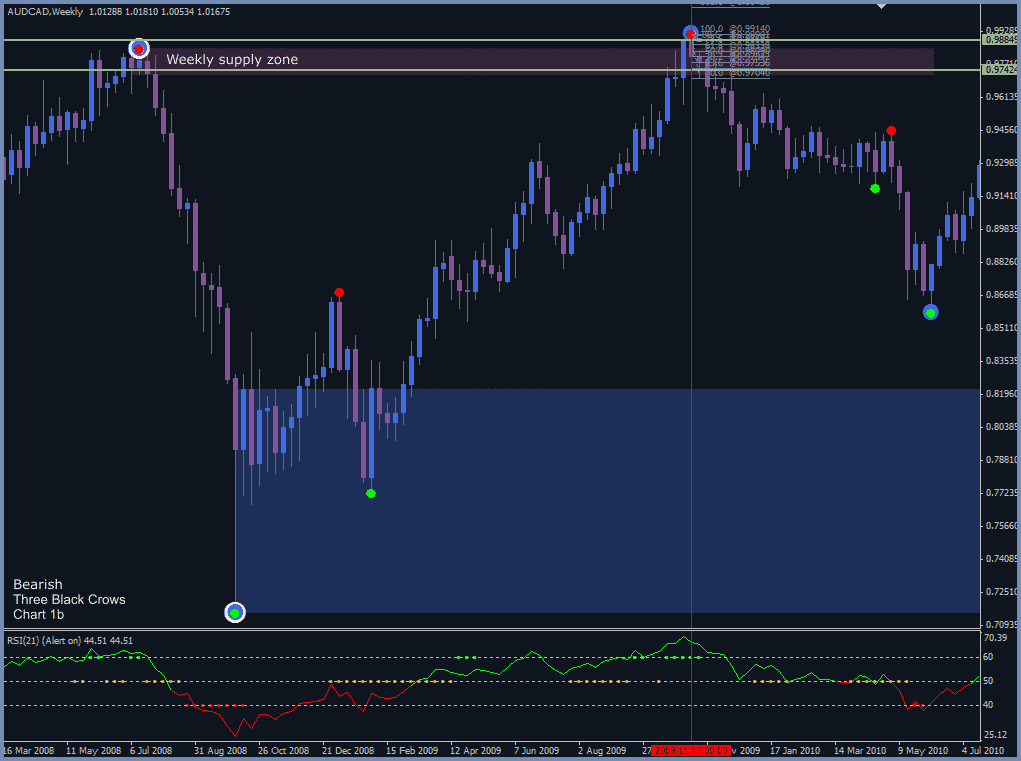 Next reversal candlestick pattern is Three Inside – Outside Up and Down Candle Pattern.