Scalping With Trend Lines
Trend lines is one great tools to identify forex market trending or sideways. Even trend lines has no lag indicator. No repaint indeed. Actual price market based open close from candlestick. A trend line scalper's strategy is most profitably done on a 1 minute price chart with a stochastic as the confirmation for the entry and exit levels.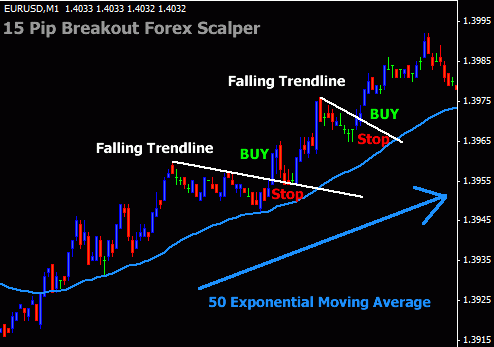 Forex scalping is not for everyone. It involves being on top of your computer screen for an intense period of time because scalping is a process where the trader opens and closes a position in a short period of time. A scalping strategy usually lasts between 3 to 5 minutes, although many scalpers are in and out of the market in about a minute. The charting time periods used are the very short periods of 1 minute and 5 minutes. It is a demanding form of trading as the scalper makes a small profit on each trade so he has to trade many times during the trading day. Sometimes as much as 100 times a day so in this way small gains accumulate to become big gains by the end of the day.
How To Scalping Forex With Trend Lines Strategy Easily
A forex scalper needs volatility to be able to make money in a very short period of time. Therefore the best currencies to scalp are the EUR/USD, GBP/USD and USD/JPY. Also the best time frames are between 1pm GMT and 3pm GMT because it is over this period that New York opens while the European markets are of course still open and at this time the most volume is traded. Another method is reading major trend on four hour time frame and looking trading opportunity in M5 time frame.
A very good scalping trading strategy using trend lines uses a stochastic in conjunction with the trend line to signal the entry and exit points.
On the GBP/USD 1 minute chart above a down trending line (left hand trend line) has been drawn commencing with the price 1.5844.
Notice how the GBP keeps below the line until it breaks it at the 1.5833 price. The scalping strategy here would be to open a sell trade at 1.5843 in conjunction with the stochastic which is dropping down out of the 80 overbought levels towards the 50 level. A stop loss is placed 4 pips above the trending line at 1.5848.
The price objective here should be in the region of 8 to 12 pips. Wait until the price breaks the trend line and then close out the short position. Closing out at 1.5833 gives the trade a gain of 10 pips.
The second down trend line can be traded in the same way when the stochastic moves down into the oversold area below 20. The position is closed out when the trend line is broken or the stochastic moves up from oversold levels above the 20 level.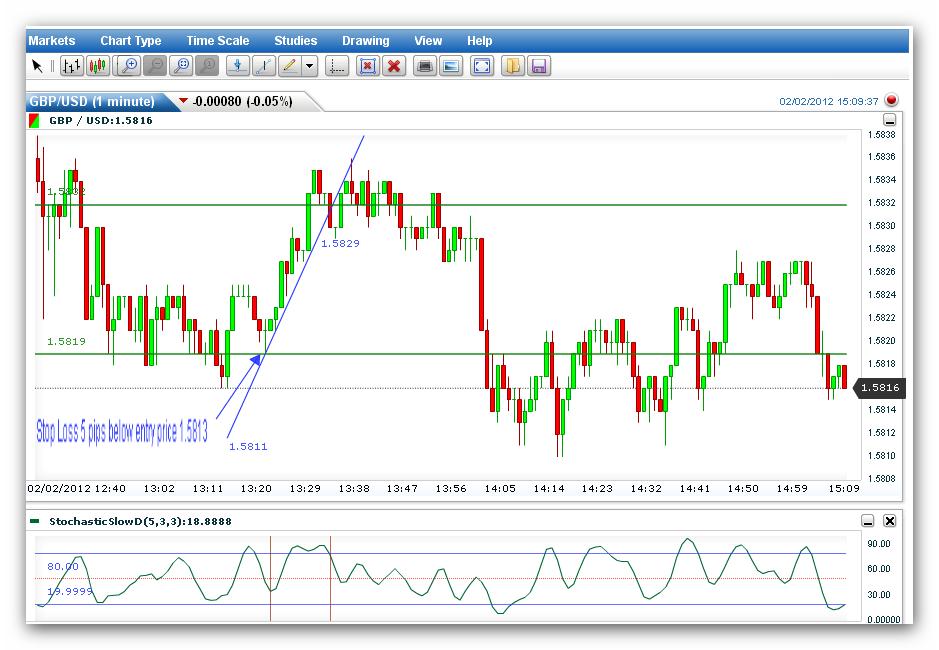 Basically trend line can be used as our support resistance level. But need adding filter indicator like stochastic, fibonacci extension tool 100.0, 127.2, 161, 200 level, MACD, Average true range or any other forex indicators in metatrader 4 platform that can be as our over bought over sold indicators.
Trend line can used to draw channel pattern or forex patterns form as our support resistance level then after price breakout trend line and equal with some adding "filter" indicators that we got a accurate forex signals.
I've hope this simple strategy scalping using trend lines can be useful for all of us. The most important think in trading scalping with trend lines is practice and practice to find the best momentum to entry the forex market.