Continuation Candlestick Pattern – Raising And Falling Three Methods
Today's article is about raising and falling three methods from continuation candlestick pattern. This continuation candlestick pattern is very important on reading psychology of market cycle that we can apply in our trading rules.
Raising and Falling Three Methods Candlestick Patterns
Bullish Rising Three Methods
And
Bearish Falling Three Methods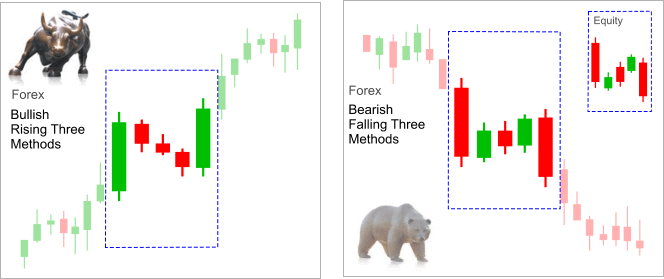 Bullish Rising Three Methods
We look for Raising Three Methods candle pattern in an up-trend within the context of an up-trend continuation. Don't forget, this is not a reversal pattern but a continuation one. In general the pattern consist of five candles.
The first candle of the pattern is a long bull candle. The up-trend is in full swing.
The following three candles are small bear candles. They should be within the range of the first candle of the pattern.
The last candle of the pattern is another long bull candle that signals the continuation of the up-trend.
Why we have those three bear candles rather than keeping up with the current up-trend?
The conventional explanation is that apparently market enters in period of consolidation before the continuation of up-trend. It shows that sellers doesn't have or put in enough fire-power to reverse the trend.
One may have bit of different outlook. It's nothing to do with sellers power or market resting etc. After such a long bear candle we have new high on price. Some profit taking and re-loading may be in order at this point as the trend has already been decided. Conveniently, just before the last bull candle there usually are some financial news, report or speech.
Couple of things to keep in mind with Three Methods pattern:
In an ideal formation there are three middle bear candles, but in reality pattern may have more than three middle candle or even less than three. There could be only two middle candles.
Each middle candle can be in different shapes, types and sizes, such as Doji, Star, bear or bull.
Middle candles may have wicks in various sizes but important thing to remember each of the middle candle wicks needs to stay within the first candle [bull] of the pattern. By range we mean first candle's high/low. If and when one or more middle candle's wick takes out first candle low then we should have some concern about validity of the pattern. Remember, nothing is sure in markets.
Bearish Falling Three Methods
It's the opposite of Raising Three Methods pattern. Just reverse the logic. Naturally we'd be looking for Falling Three Methods pattern in a down-trend.
See example below from this Raising And Falling Three Methods – continuation candlestick pattern.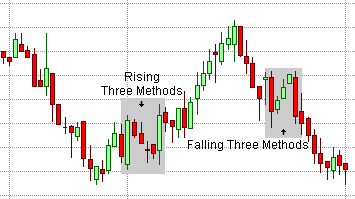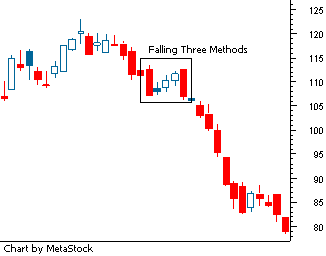 In next article, we will write about three line strike of this continuation candlestick pattern.