Three Line Strike Continuation Candlestick Pattern
Bullish

/

Bearish

Three Line Strike Candlestick Pattern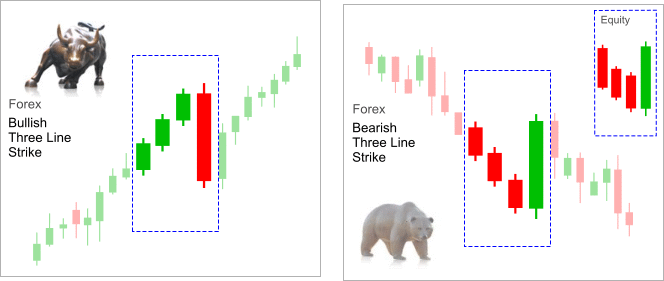 Bullish Three Line Strike Candle Pattern [weak]
We look for Bullish Three Line Strike candlestick pattern in an up-trend within the context of continuation pattern. Don't forget, this is not a reversal pattern but a continuation one. The pattern consist of four candles.
As a continuation of the established up-trend, first we see three bull candles resembling bullish three white soldiers or simply 3 up. Each bull candle should close higher than previous candle.
The last candle of the pattern is a long bear one. It closes around or below the first candle open.
After having clear bull moves with the first three candles of this pattern why such a sell off. There are conventional explanations but if we look at this pattern bit more closely it serves big buyers in two front fairly well.
The number one is their profit taking and re-loading needs are served. The number two, which is more importantly for new traders that they are able to present current current move as a very attractive bear engulfing trap, thus taking out all those excited sellers [mostly retail].
Remember what we said on engulfing candle pattern article. The engulfing candle pattern is a reversal candle pattern not a continuation one. We look to see where engulfing candle pattern occurs. Is it around or in supply [bear engulfing] and demand [bull engulfing] zones. Don't forget the strong historical price levels.
Additionally, keep in mind to compare to Raising Three Methods candle pattern, Three Line Strike candle pattern is a weak one. Rather than entering just after pattern confirmation candle [The fourth one] you may want additional confirmation to have some idea that up-trend is intact. Especially, if it appears on/and around important levels. It could turn out to be a strong bearish engulfing candle pattern.
Bearish Three Line Strike [weak]
It's the opposite of Bullish Three Line Strike. Just reverse the logic. Naturally we'd be looking for Bearish Three Line Strike in a down-trend.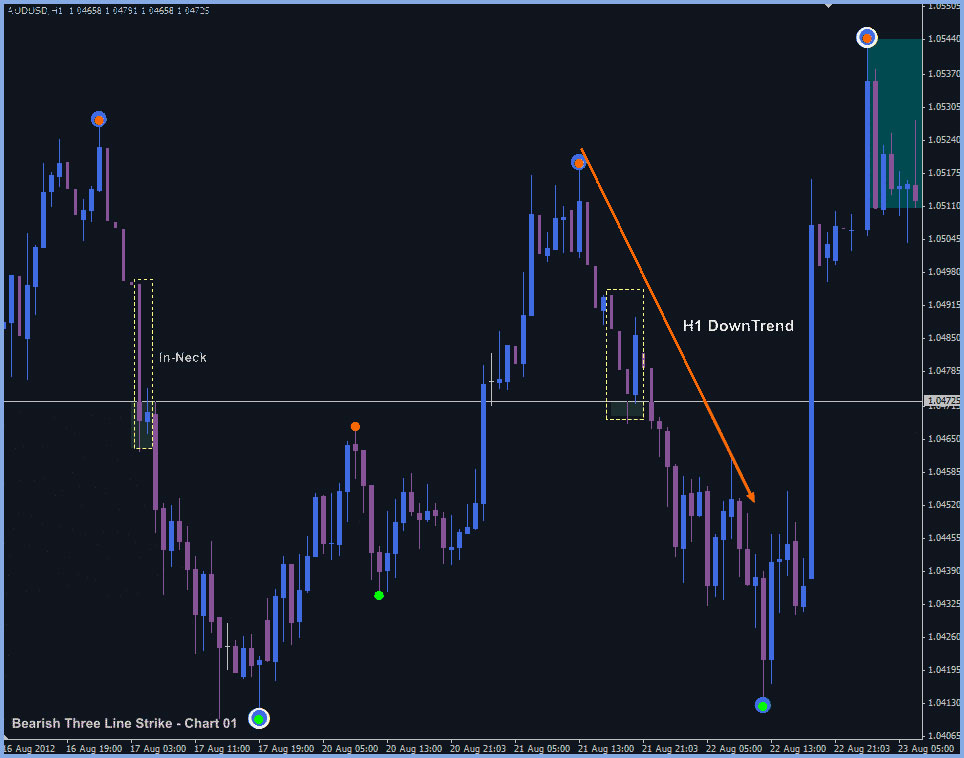 Three Line Strike Candle Pattern. On the left there is also an In-Neck candle pattern which is explored in next article.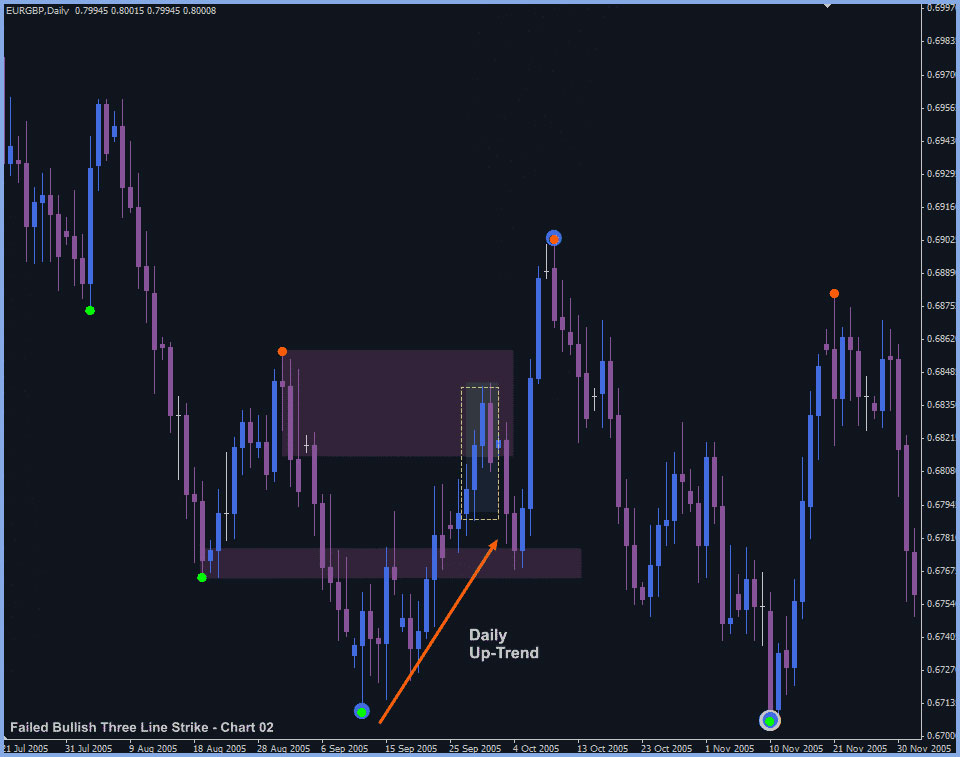 A failed Three Line Strike Candle Pattern. It rather turned out to be a bearish engulfing pattern. Keeping in mind this is a daily chart, buy trade taken out after the completion of the pattern would be a looser. Why it failed? Traders with understanding of supply and demand plus historical price levels wouldn't take this entry. Most likely, they would take a buy order after testing historical price zone and creation of bull engulfing pattern. Please note, where bear and bull engulfing candle patterns formed.
Next article from this continuation candlestick pattern is Bearish In-Neck On-Neck & Thrusting.