Bullish And Bearish Engulfing Reversal Candlestick Pattern
Bullish / Bearish Engulfing Candlestick Patterns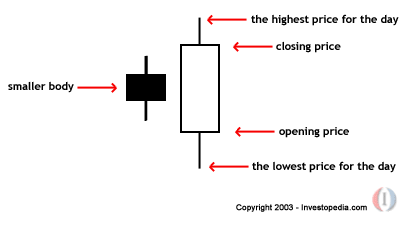 Remember in using this engulfing bullish or bearish candlestick pattern that should be located on supply demand zone. Lets start with engulfing pattern which is considered to be most strong of all in the right place.As it's a reversal pattern, Engulfing candlestick pattern is most beneficial when there is a up or down trend. It's for identifying the turning/reversal point. It's kind of recognizing top or bottom of given up or down trend move. Trends we are talking here is Time Frame specific. You may have many mini trends withing the scheme of larger trends and therefore as you breakdown larger trend there will be many more turning points of mini trends in a smaller time frames.
Keep in mind most patterns requires a confirmation. For example, just because we see an engulfing pattern on a uptrend that doesn't mean an auto sell assuming it'll turn there. In order to move reverse, we need to see convincingly buyers or sellers overcomes one another in quantitative terms. High probability trades develops when these patterns occurs in supply/demand zones.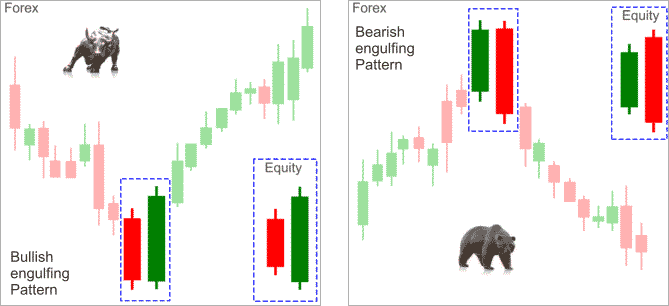 Engulfing patterns are made of two candlestick, one down and one up. Bull and Bear candles. The picture on the left uses red for price going down [bear candle] and green for price going up [bull candle. Different traders may use different colors which is not important.
The important aspect that second candle totally engulfs the first one. It's even better if the body of the second candle even covers the first candles wicks too.However, it's not necessary. Wicks are allowed, they are usually small or non exist intent.
The size of the first candle is not important but it shouldn't be a doji as it would be very easy to cover therefore force of the opposite move will suggest it's a weak one. However, the size of the second candle does matter. Bigger is better [within reason]
Look for the existing trend up or down
See if the engulfing patterns occurs within supply and demand zones. Remember, engulfing patterns occurring in new highs or ranging markets cannot be considered bearish or bullish reversal.. It'd more likely be a continuation.
How do we determine the existing of down or up trend? Some of the followings may be used for this purpose but my favorite one is to identify supply and demand levels and work from there.
Peak and dip reactions are lower or higher than previous.
Price has been below or above it's trend line and so on. Best time to enter after engulfing pattern established and price broke the trend line.
Here examples below with engulfing reversal candlestick pattern – Bullish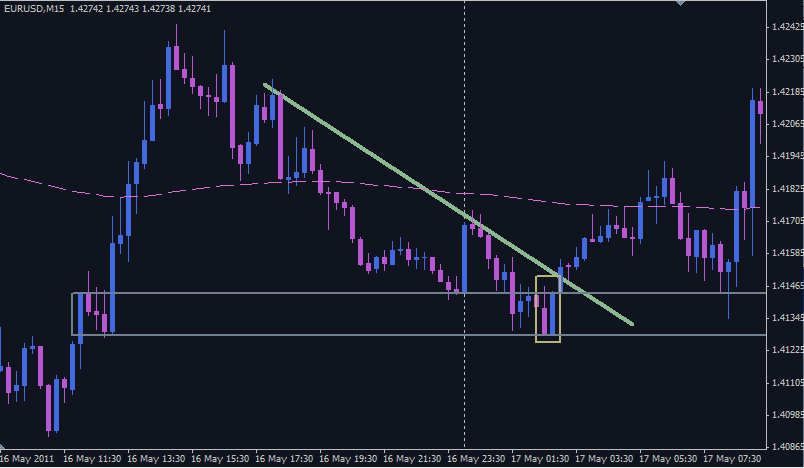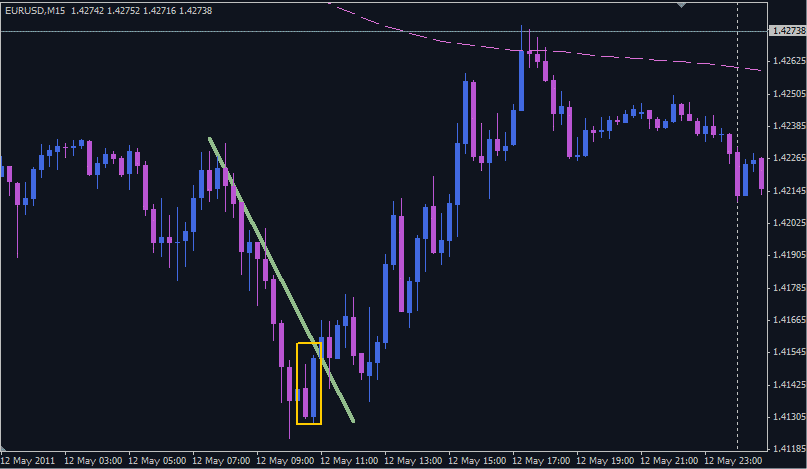 Example for reversal candlestick pattern – bearish engulfing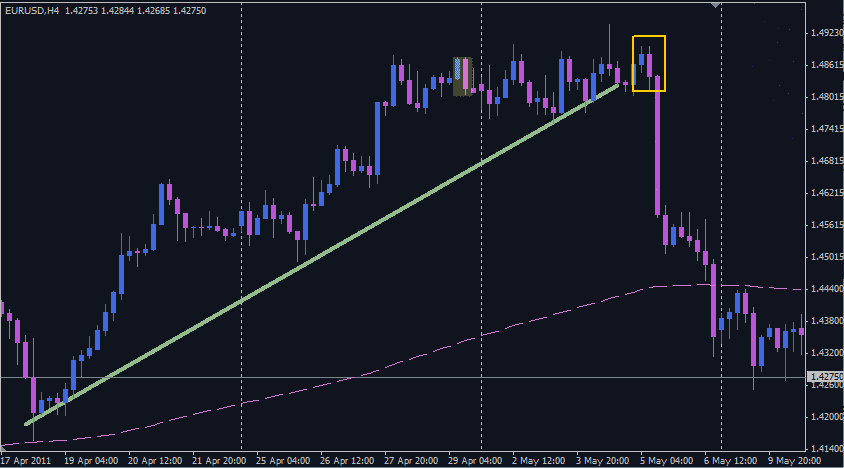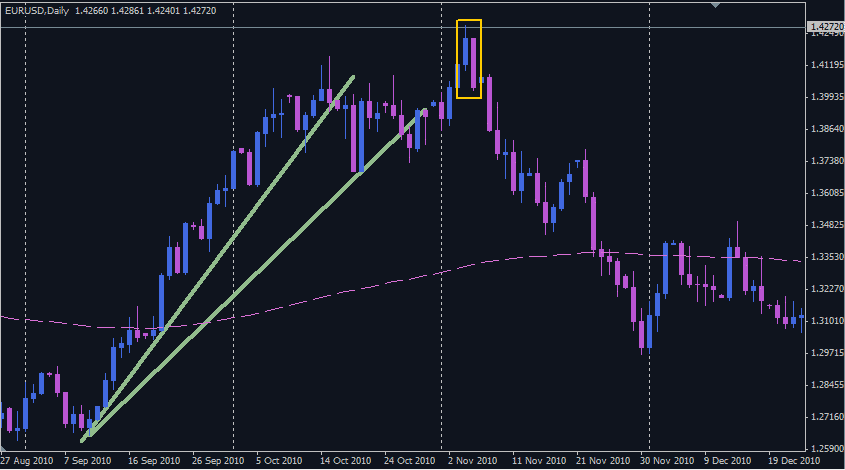 You may also use stochastic as indicators for additional helper indicator/s to see possible reversal points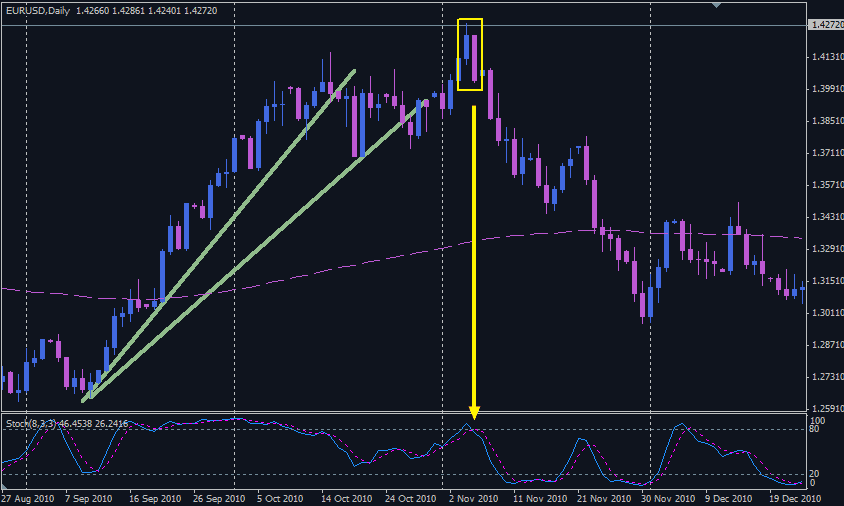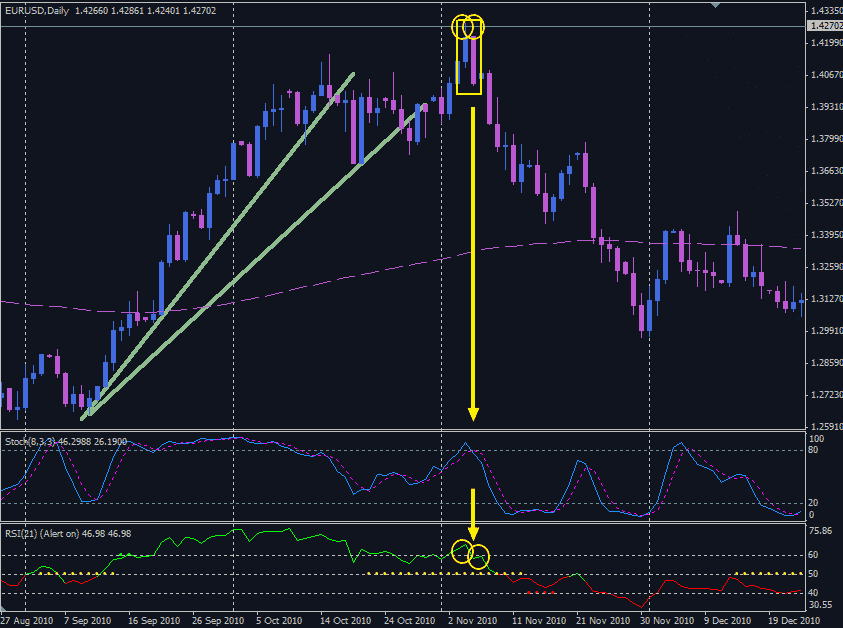 Sometimes this bearish or bullish engulfing need to be filtered with some indicators like trendlines (upper/lower trendlines) or even this simplicity as stochastic.
In the next article about major reversal candlestick pattern we will give some example for Abandoned Baby Candlestick Pattern.